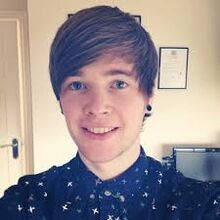 Daniel Middleton (also known as TheDiamondMinecart and DanTDM) is a very popular Minecraft Youtuber that does many Minecraft Mods, along with TDM Vlogs, TDM Play's, Custom Mod Adventures and Minecraft Minigames videos.
He is considered as one of the fastest growing Youtubers to be in YouTube. As soon as he reached over 6,000,000 subscribers recently, in which he almost ties up with his friend Stampy. He recently won the UK Nickelodeon Kids Choice award for best Tipster in which he edged out Stampylongnose.
Dan has uploaded a total of more than 1000 videos and still increasing daily. He is known for his daily mod reviews as well as several Let's Play series including The Diamond Dimensions, a modpack put together by Dan himself, as well as the latest series Minecraft Xbox, where he attempts to build a giant kingdom in survival. He also makes vlogs, that he does consistently, and also Trayaurus videos in which Trayaurus is shown doing his pesky tasks (For Example: Sending Dan to prehistoric ages etc). Dan is married to Jemma (also known as JemPlaysMC) and they sometimes do videos together (e.g Husband vs. Wife Survival).He also has a Minecraft skeleton dog named Grim and two real life pugs named Ellie and Darcie.
In early 2015, he and Stampy were nominated in the 2015 Kids' Choice Awards presented by Nickelodeon as UK Favourite Tipser. He won that award. He recently accumulated 10,000,000 subscribers on his main channel and 1,000,000 on his vlogging channel.
Gooooood byeeeeeeeee
Popular YouTuber in the Earth
The best
10,0000.000000000 subscribed
Nooooooooo
"I just messed up royally.."
"You punk." (To Mobs)
"Oh, my god! I think I'm going to be sick."
"Heck, Yeah!"
"It's one of them rainbow-chickens!"I
"You, Pesky (mob)"
"HEY! NO!"
"Excuse me, sir/mob"
"Get outta here!"
"Come on, buddy!" (To Mobs)
ugggggg (when he messes up)
"Back off, son!" (To Mobs)
"Hey, everyone! It's Dan here"(intro)
"Oh, god, what are you doing?" (To a pigman)
"What have you done now, Trayaurus...?" (when Trayaurus does something...questionable)